Sydney May Day March – A Proud Past, A Fighting Future

May Day Sydney was a big success. Find plenty of photo's from the event here
Newcastle May Day Dinner and March
This year's Newcastle May Day Dinner is to be held on Friday 3rd May at the Newcastle Panthers and the March will be held the following day Saturday 4th May assembling at Hamilton Station Carpark at 10 am for a 10.30 start.
Email Sandi Jones at Newcastle Trades Hall for more info: sandi@newtradeshall.com
Sydney May Day Toast
The 2013 May Day Toast will take place on Wednesday, 1st May 2013 6.30pm at the Cyprus Community Club, 1st Floor, 58-76 Stanmore Road, Stanmore. There will be guest speakers, live bands, a 3 course dinner and refreshments. Please RSVP to Sam Salvidge at SSalvidge@psa.asn.au if you are a PSA/CPSU member who'd like to attend.

Wollongong May Day Toast and March
Toast : Friday 3rd May at 6.30pm, Hellenic Club, Princes Hwy Figtree. $20/$25
(RSVP by 25th April)
March : Saturday 4th May, 10am Assemble at Lowden Square Wollongong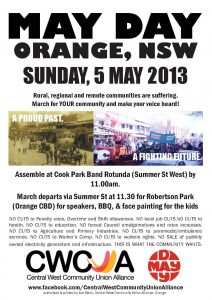 .
For bookings and information : Elizabeth 42 292888 or 0421862313
Email : mail@sclc.com.au
 Orange May Day March 
March Departs at 11:30am at Summer Street and marches to Robertson Park
There will be facepaininting for the kids and a BBQ.
Get in touch with the Central West Community Union Alliance for more info: