Retired Associates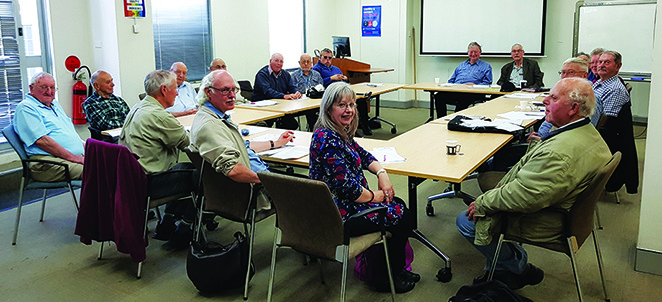 The PSA's Retired Associates' Group is very active and has affiliations to other retirees' organisations.
Advantages of membership include:
Remaining a member of the PSA
Receiving Red Tape and being kept abreast of union issues
Membership of Provident Fund – $4,000 funeral benefit until age 70
Access to PSA lawyers with first consultation free
Affiliation with Combined Pensioners and Superannuants Association (CPSA) and Australian Council of Public Sector Retiree Organisations (ACPSRO)
Fellowship at meetings and speakers on a range of informative topics followed by refreshments.
Executive of the Retired Associates Group
Robert Ryan, Chairperson
William Hall, Secretary
Robert Asbury, Senior Vice President
Paul Turner, Junior Vice Chair
Committee Members:
John Carmichael
Frank Scharfe
Anthony (Tony) De Luca
Mark Gordon
Robert McGarn
Wayne O'Mara
2 (two) Committee member vacancies remain
Membership of the Retired Associates Branch
Membership with Provident Fund is $41.50 per year (July 2018 – June 2019).
To be in the Provident Fund members must join the Retired Associates immediately after retirement from the public service.
Membership of the Provident Fund ceases at age 70.
Membership without the Provident Fund is $35.80 for the year.
Meetings
The Executive usually meets on the third Friday of each month.
General meetings are bi-monthly and held at PSA House, 160 Clarence Street, Sydney.
The Retired Associates invites members, and others who may be interested in joining to attend.
Meetings commence at 10:30am and are a great source of information about retirement, superannuation, lifestyle, health and other issues. Meetings conclude with refreshments at lunchtime and a warm welcome is assured.
Dates for this year are listed below:
Tuesday, 26 February 2019
Tuesday, 23 April 2019
Tuesday, 25 June 2019
Tuesday, 27 August 2019
Tuesday, 22 October 2019
Tuesday, 10 December 2019
To read the Retired Associate 2017-18 Annual Report click HERE.
To view the Retired Associates' Group Brochure click HERE.
For further information please contact Robert Ryan, Chairperson on (02) 9542 2034 or by email retired@psa.asn.au