Maxxia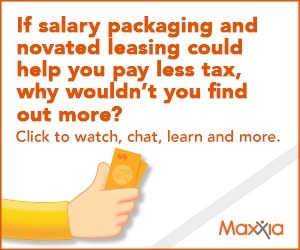 Do more with your money
Introducing salary packaging from Maxxia
Fully approved by the Australian Tax Office, Salary packaging lets you pay for certain expenses like everyday costs of living with money from you salary before tax. This reduces your taxable income, meaning you could pay less tax and increase your disposable income. Here's a list of just some of the things you can salary package.
A new car
Novated leasing lets you salary package the cost of purchasing and running a new car with some of your before tax dollars ­­­­– and potentially lower your taxable income. New or used, Maxxia can help you find the car you want and negotiate with dealers to secure a great price that doesn't include GST or any upfront fees.
Once you've decided on the car you want Maxxia will set up a salary packaging account. Then they'll arrange a budget for your lease repayments and running cost like fuel, registration, insurance and maintenance. The cost of everything is bundled into one regular, set-and-forget payment drawn from your salary each pay. Learn more
Superannuation
With salary packaging, you can use funds from your pre-tax salary to make additional contributions to your superannuation. This not only reduces your taxable income, but could also boost your retirement nest egg. What's more, additional super contributions are subject to just 15 per cent contributions tax. So for every dollar you contribute, 85 cents go directly into your superannuation account.
Laptops and tablets
Get the latest gadgets and save on tax. Staying up-to-date with new technology is a challenge in an ever-changing digital world, and then there's the cost! But now if you're in the market for a laptop or tablet that you use mostly for work, you can buy it outright and salary package the purchase cost.
Plus…
Work-related expenses, including briefcases, PDAs and calculators
Work-related home office expenses
Subscriptions and self-education
Interest-only investment loans
Disability or income protection insurance
Financial advice fees (for advice relating to salary packaging)
Airport lounge memberships
Remote area benefits
About Maxxia
We've chosen Maxxia to bring you the best possible salary packing experience. As the largest provider of its type in Australia, Maxxia have specialised in workplace benefits for close to 30 years. Learn more
For more information
Call 1300 123 123