In the lead up to the NSW election on 28 March, PSA members are taking their first hand experiences of the Baird Government's privatisation and service cut agenda to the doorsteps of voters.

Join the doorknocking campaign

HERE

Out on the streets: see campaign photos HERE

---
The former State Emergency Service Commissioner is to be charged under whistleblower protection laws over the sacking of Deputy Commissioner, Tara McCarthy.
Read The Sydney Morning Herald article HERE
Our rights at work are again under attack from the Abbott Government and employers.
The Productivity Commission inquiry into our rights at work could deliver cuts to penalty rates, the abolition of the minimum wage, bring back unfair individual contracts and swing even more power to the employers.
The time to stand up and fight back is now. Let's march together with thousands of our neighbours, workmates, friends and families at a national rally on Wednesday 4 March.
The 2015 PSA Women's Conference will be held in September at PSA house, 160 Clarence Street, Sydney.
All women members of the PSA are welcome to attend.
Registrations will open in July and will be published, along with additional details, in Women at Work and Red Tape.
The Baird government's reforms to TAFE are ending in tears, literally.
Read The Sydney Morning Herald story HERE
The Randwick-Botany unit of the NSW State Emergency Service is now recruiting volunteers 18 years and over for 2015.
Hard working PSA schools delegate, Mary Court has been honoured with the Unions NSW 2015 Scroll of Honour for her services to the PSA and the union movement.
Mary is a School Admin Manager from Blaxland High School.
Mary has been a highly valued district leader for PSA members in Western Sydney public schools since 1994.
She became a powerful force in the union movement's Your Rights At Work campaign in 2005 – 2007.
Mary is also a founding member and Secretary of the highly organised Penrith Valley Community Unions where her skills, knowledge and passion are helping to make the Jobs, Rights & Services Campaign a great success.
Congratulations Mary.
Adopted by Central Council on 9 February 2015.
PSA Central Council Code of Conduct & Ethics (PDF)
A forum organised by the Penrith Valley Community Unions (PVCU) against privatisation received plenty of support from some, but not all, local candidates in the coming state election.
Reopening Grafton prison the better option said POVB Chair, Steve McMahon
A rally in Cessnock to protest against the privatisation of ADHC went very smoothly.
Environment Minister, Rob Stokes has announced the creation of the Glen Turner Scholarship at the University of Newcastle.
Glen, a compliance officer with the Office of Environment and Heritage, was shot and killed last year while on duty.
View the Unions NSW video against privatisation HERE
PSA members rallied in Cessnock on 16 February against the privatisation of disability services. The rally was organised by the Hunter District LCAG and included Clayton Barr, the Labor member for Cessnock.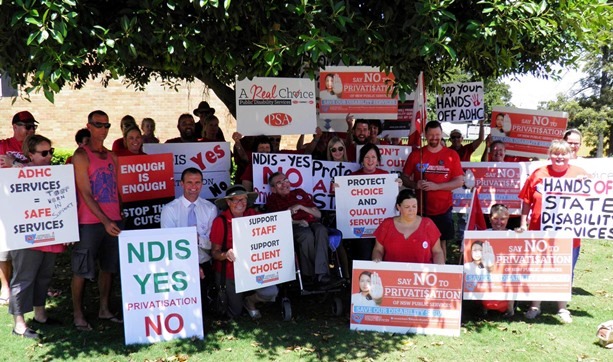 PSA members rallied outside Hamilton TAFE campus on 17 February where Premier Baird was opening the new offices of the Newcastle Business Chamber.
The PSA's Central Council has resolved the following in relation to the coming NSW state election:
| | | |
| --- | --- | --- |
| CC7/15 | | "That no PSA resources will be used for the purpose of campaigning for any party or any candidate in the upcoming State election, including the use of PSA staff on paid work time. This does not limit or restrict the right of PSA employees to campaign in the election in their own time." |
Western Sydney is on the march against privatisation.
Read the Penrith City Gazette article HERE
Premier Mike Baird has declined to appear before a Senate inquiry into privatisation at a time when community support is dimming for his plans to sell off the "poles and wires" of the power network if he wins on 28 March.
Meet your local candidates and make YOUR voice heard.
Friday 6 March
6pm – 8:30pm
East Leisure and Golf Club
Tenambit Street, East Maitland
In the last two years the Baird government has sold off $1 billion worth of public assets when it could have borrowed the money at minimal interest rates.
Read the ABC News article HERE
AEU Media release – Privatised training lowers quality (PDF version)
New research shows privatisation of vocational training and TAFEs has led to a drop in quality of courses and huge taxpayer-funded profits to private providers.
A Fairfax/Ipsos poll reveals that support for the Baird Government's plan to sell off the power industry is dimming.
Read The Sydney Morning Herald story HERE
Cuts to Legal Aid funding are having a major impact on the legal system.
Read The Sydney Morning Herald article HERE
ACTU media release – Abbott government on notice – union campaigns kick off (PDF version)
A new survey of more than 43,000 people shows working Australians feel anxious about their living standards and are deeply dissatisfied with the Abbott Government's policies and direction.
A report by the University of Sydney has revealed that reforms to vocational training are generating hundreds of millions of dollars for less than reputable colleges.
Read The Sydney Morning Herald article HERE
APPLICATIONS CLOSE FRIDAY 27 FEBRUARY 2015